Block Shop
Block Shop is a textile, art, and design studio founded by the Los Angeles-based Stockman sisters. We are a multi-generational team of artists and craftspeople devoted to celebrating the rich history, process, and materials of handmade textile production. Block Shop invests 5% of our profits in community initiatives in India and LA, where we partner with local NGOs to provide educational + healthcare-related resources to the communities our work touches.

We've collaborated with visionary brands like Design Within Reach, In Casa by PaBoy, Fireclay Tile, Heath Ceramics, Diaspora Co., Rachel Comey, Ace Hotels, Sonos, Oribe, Farrow & Ball, and Airbnb on custom projects and spaces, and have been featured in T: The New York Times Style Magazine, Vogue, Architectural Digest, Condé Nast Traveler, Dwell, Domino, Elle Decor, and our high school alumni bulletin.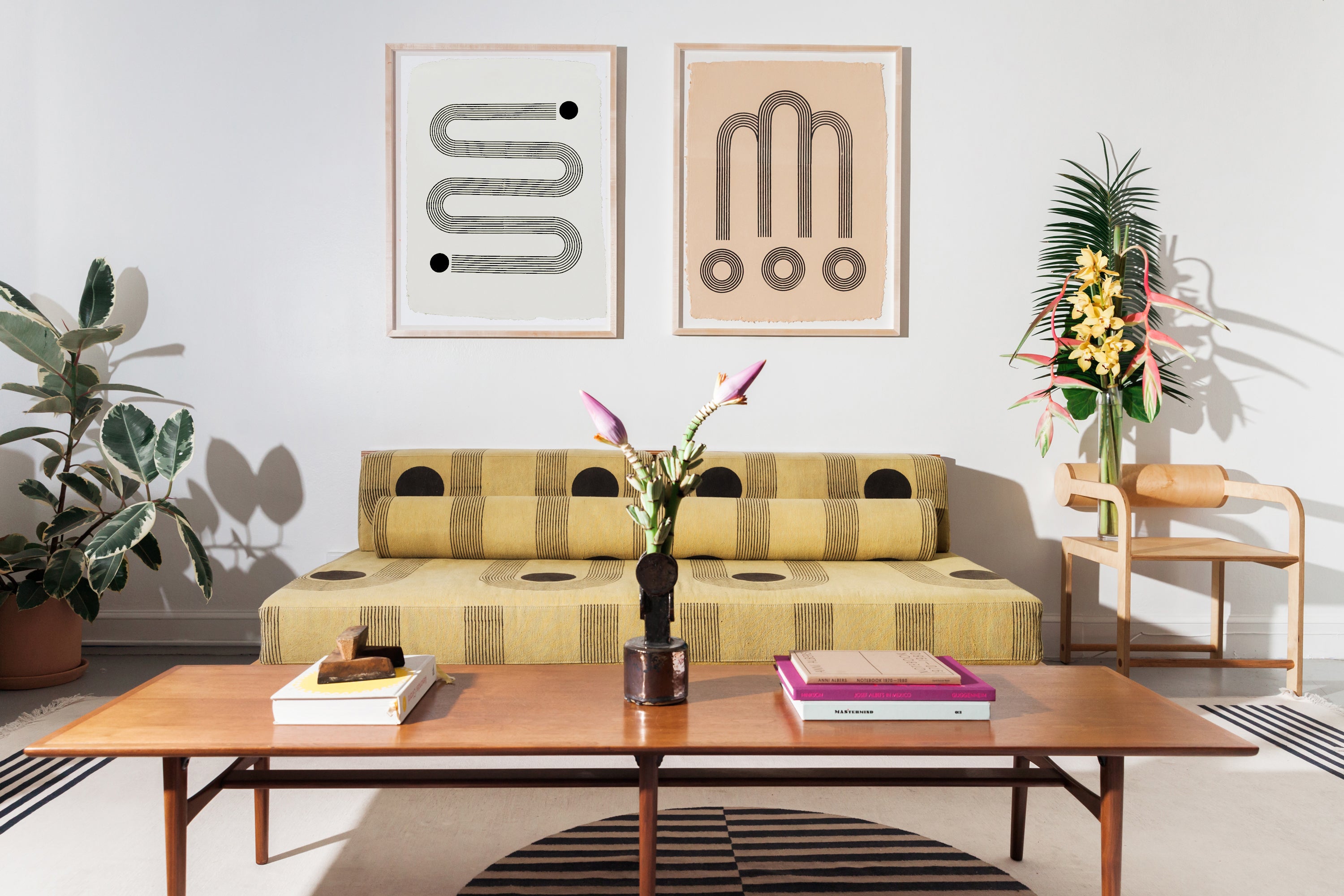 As artists and craftspeople ourselves, we've always sought to support highly specialized artforms and their histories. Our business started in 2013 with block printing in Rajasthan, where we continue to partner with printing organizations like the woman-run Craft Boat, who uses a low-waste process to make all our paper products. 
We now proudly partner with nine, small-scale, independent manufacturers at the forefront of ethical manufacturing. Our partners include one sew shop and one woodworking shop in Los Angeles, a cashmere mill and a textile studio in Italy, and in India we work with two block printing houses, two handloom NGOs, and one rug weaving organization. We're thrilled to add a woman-run wallpaper printer in Connecticut to our family of partners this spring.
We believe in small-scale production, fair wages for workers, and healthy working conditions. In LA, this means health insurance and paid parental leave for our full time employees. In India, we embrace a decentralized supply chain in order to support the small family business ecosystem in our partner communities. We invest 5% of our profits each year into our community initiatives in Jaipur and Los Angeles. In Jaipur, we work with PeTOSH global (more below), and in LA, we partner with ArtworxLA and CreateNow; two fantastic organizations providing arts education and art therapy to young people in under-resourced communities.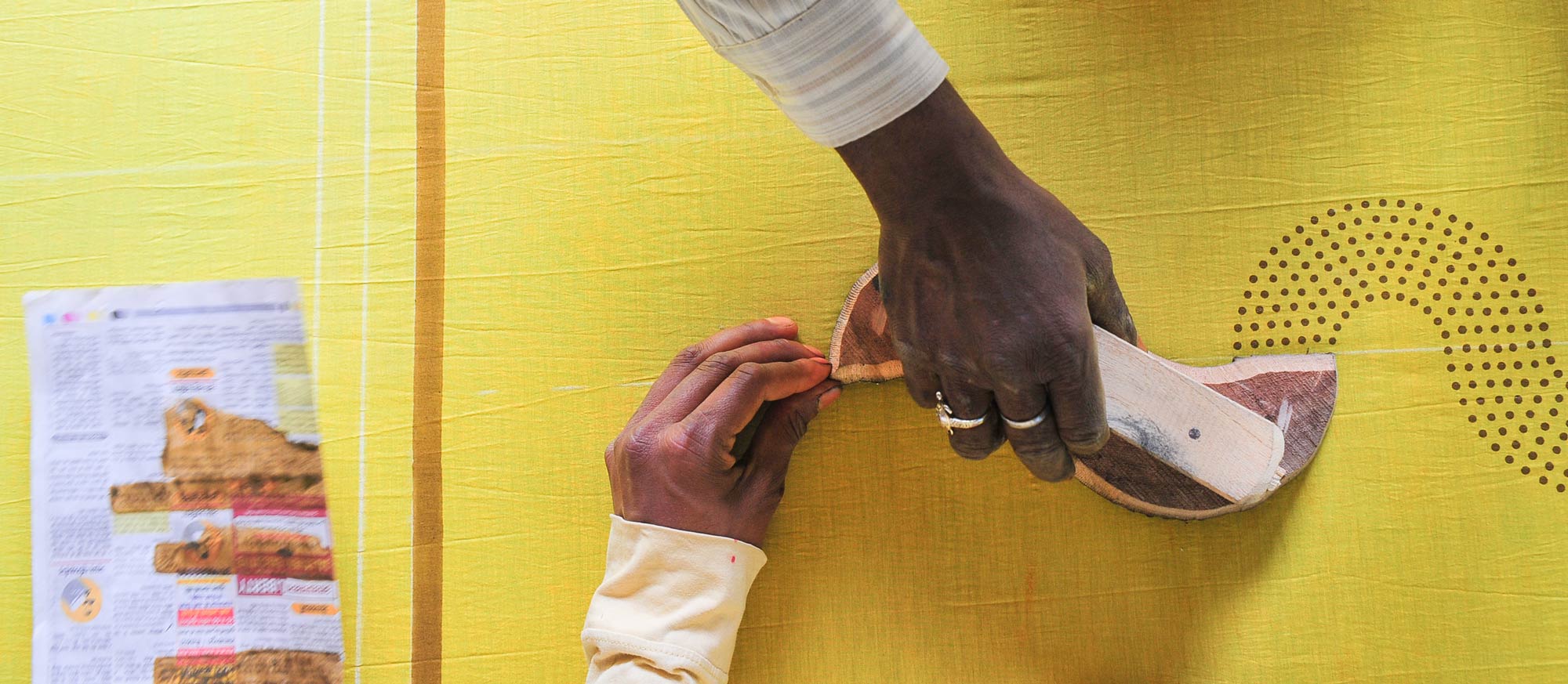 Process
Our products are produced in small, family-owned workshops and studios in India, Italy, and the US. We draw and design everything ourselves and work with our partners in person in small batches of 50-300 units, ensuring our ethical production standards and exceptional craftsmanship are met in every step of the supply chain.
Our textiles are printed by hand with carved wooden blocks in Jaipur, Rajasthan, a method known as hand block printing. This method is taught through the apprenticeship method, where the skill is passed over generations within a family. 
Our designs are traced onto cross-sections of sisam wood and carved by master carvers by hand. A simple geometric block may take a day, whereas a complex set of floral blocks could take up to a month to complete. 
The printer dips the wooden printing block in a dye tray, then stamps the block on the fabric with a hard pound of the fist at the center of the block, ensuring even printing.
The printer will repeat this from left to right, aligning the blocks perfectly by eye from years of experience. For complex patterns, printers will make an intricate grid of thread and pins to guide the registration and repeat.
We use non-toxic, AZO-free chemical dyes to print our patterns. Each scarf is inspected and washed by a certified organic laundry in Los Angeles, California before we ship to you.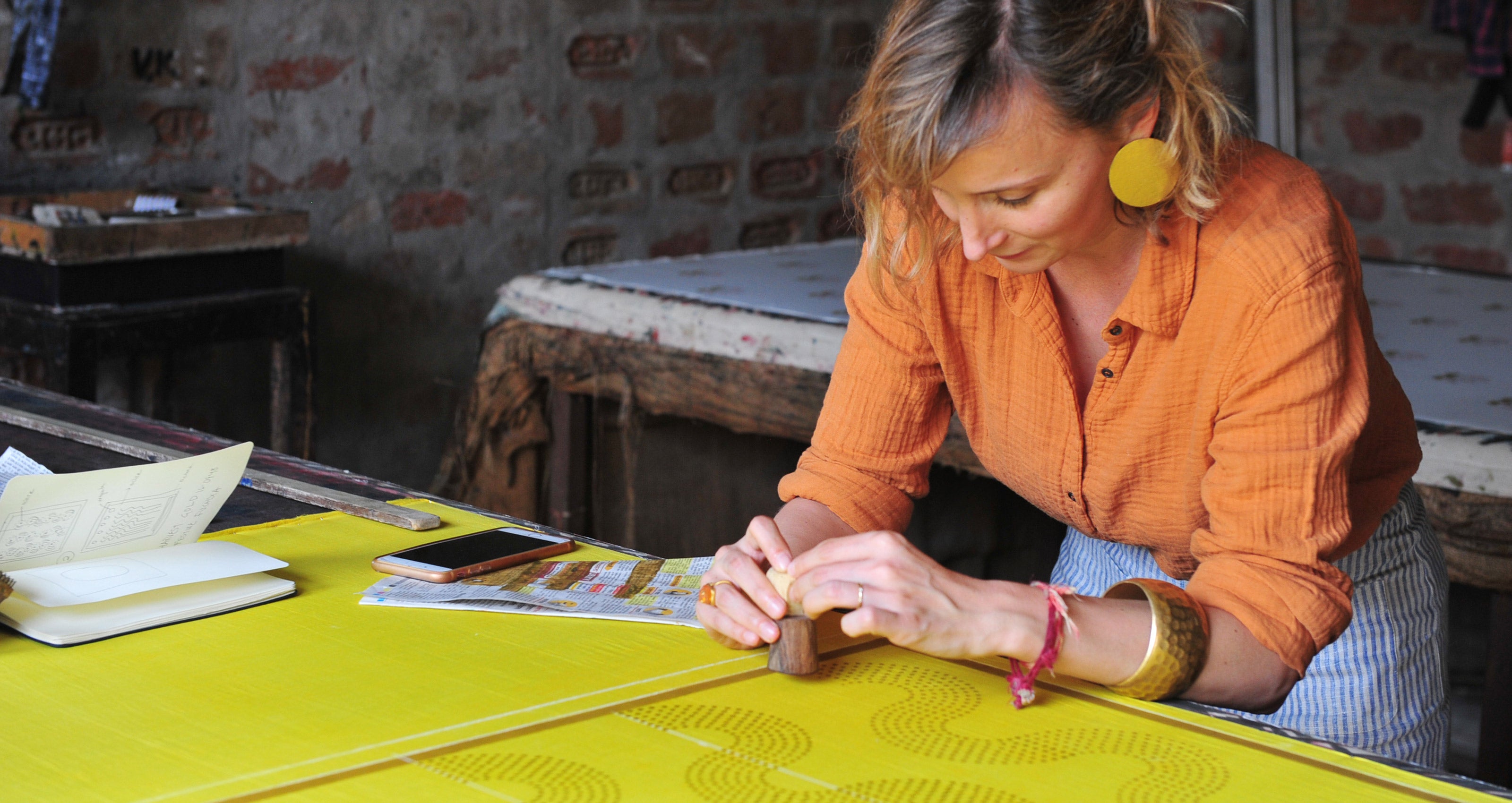 The paper for our woodblock prints is made from recycled scraps from the cotton apparel industry, a long held relationship between local textile factories and papermakers.
1. Cotton waste from apparel manufacturing is bleached, washed, and pulverized into a textured paper pulp.
2.  The papermakers scoop the pulp into a wooden framed mesh screen, place a piece of cheesecloth tight across the surface, and flip the screen upside down, creating a tall stack of paper separated by layers of cheesecloth. 
4. The stack of wet paper is compressed in a large mechanical vice to remove excess water, and then each individual piece of paper is hung to dry. We do not trim the natural edge of the paper, instead leaving the beautiful deckle as a mark of the papermaking process.


Our cotton dhurries are made in the countryside outside Jaipur, where the tradition of dhurrie weaving has thrived for generations. Most dhurrie weavers are also farmers, and switch between the two trades or manage them simultaneously depending on the crop and season. Our woolen rugs are made by a legendary family-owned weaving organization in Panipat.
1. For cotton dhurries, the horizontal loom is set with a white cotton warp or taana (hence the white fringe on the ends of our dhurries). Our pattern is woven by hand using a shuttle, and beaten down into the weft with a metal-toothed comb, completely covering the warp, which makes these distinctive flatweave rugs fully reversible. 
2. For woolen rugs, we've worked closely with our weavers to play with new techniques, like our looped "fisherman sweater" rugs, cut pile, shag, and raised weave. All woolen rugs are woven by hand on upright heddle or rachchh looms, and have clean, sewn edges, or khatti.


Our organic cotton blankets are woven by hand in Maheshwar, India, where the Holkar family has reinvigorated the handloom tradition over the past half-century. We work with Women Weave, which aims to provide women with a dignified, profitable, and fulfilling form of work, as well as providing them with resources like training, housing and childcare.
1. Locally-grown organic cotton is spun and dyed in-house.
2. The most labor-intensive step is threading each individual warp thread through the treddles of the countermarch floor loom. 
3. Then the pattern is woven into the warp with a fly shuttle, the weaver pounding down the weft with the reed as she goes. Multiple blankets are woven one after the next on the same warp, then cut off the loom, hand-knotted, and washed.
Recycled Italian Cashmere . . . COMING SOON
Wallpaper . . . COMING SOON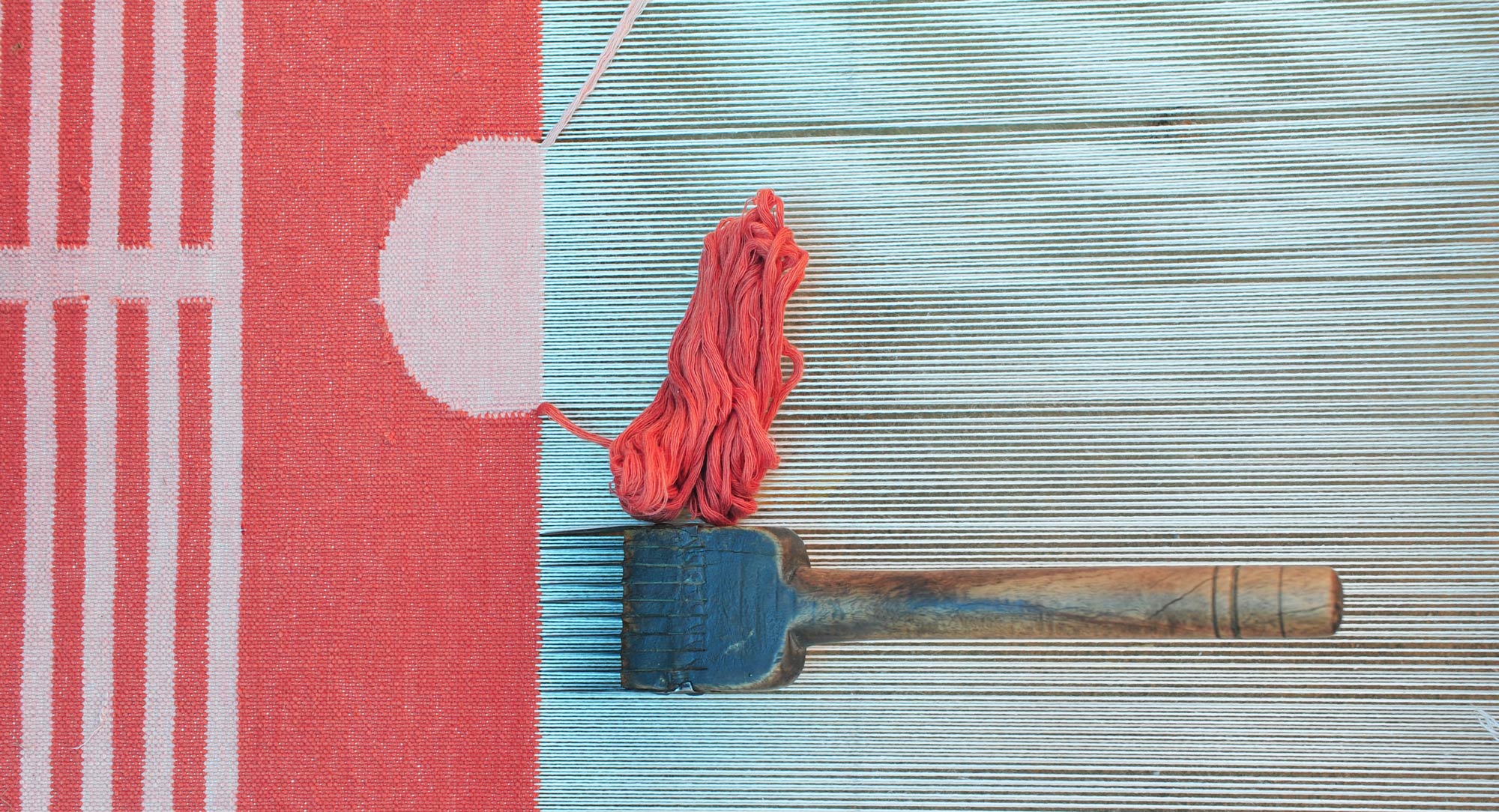 Business Practices
We invest 5% of our profits each year into our occupational health program in Jaipur, as well as in arts initiatives for under-resourced youth communities in Los Angeles.
Our partners across the globe represent a new generation of textile manufacturing leadership by commanding higher wages for textile workers, providing healthy working conditions, reducing waste, seeking to bring more women into the supply chain, and improving quality by extending training and innovating textile fabrication techniques. Sharing in this long-term vision for the future of textile manufacturing is essential to our partnership.
Our printing and weaving partners meet our ethical employment standards by the following practices:
Wages. Our partners pay fair and timely wages, defined as the following:
For piece rate work in India, our printers receive 50-100% above local market piece rates.For monthly income, our printers and weavers make between two to three times the average minimum wage in India for skilled workers, as defined by wageindicator.org.  
Standards. Our partners must meet one or more of the following standards: 
Have obtained or are actively working towards certifications including B Corps, Craftmark, or Fair Trade. Community resources provided to textile artists beyond wages (food, education, healthcare, housing or childcare) Training programs for women, with the goal of providing women with textile production skills and earning power. 
Workspace. Clean, healthy, well-ventilated workspaces with clear COVID safety measures.
Upcycling. Our partners upcycle waste fabric whenever possible. Block Shop's scraps and "seconds" are currently used to make pouches, non-medical grade protective masks, robes, and paper.
Child Labor. Child labor is strictly prohibited by our partners.
Lapses. If a partner organization has lapsed in any of the above practices, we provide the opportunity to improve with a written plan for correction over 3-6 months.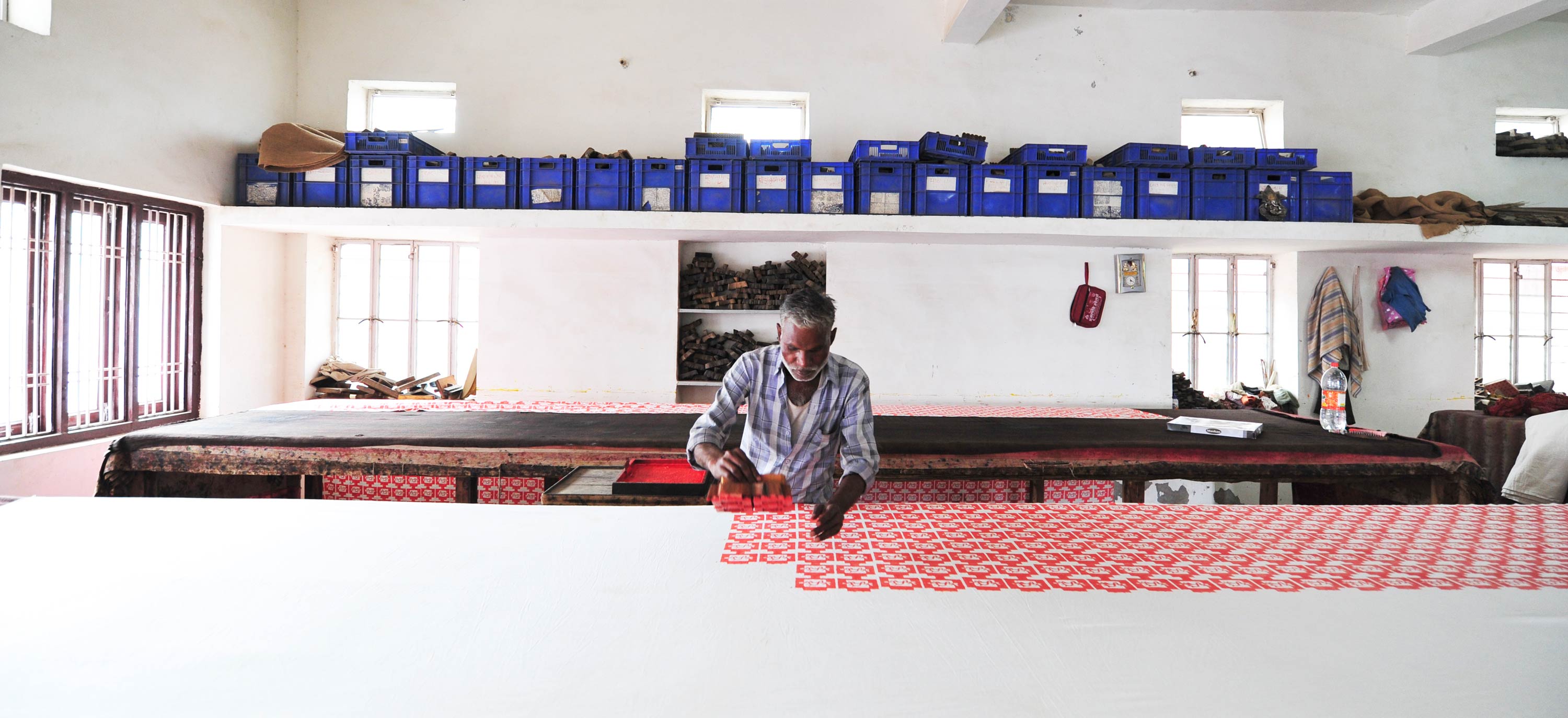 Twice a year Block Shop runs primary healthcare camps for the textile artist communities with which we work in Jaipur through our local NGO partner PeTosh Global, which specializes in occupational health for workers.

Our health camps bring general practitioners, dentists, ophthalmologists, and teams of medical and business school interns from Jaipur into printing communities to run eye exams, perform dental exams, general checkups, and provide eyeglasses prescriptions.

Each camp typically treats between 100-200 community members. We started our community health camps in 2014, and we're committed to expanding their reach each year. In total we've treated over 1000 individuals since we started Block Shop. See more about our health camps here and here.